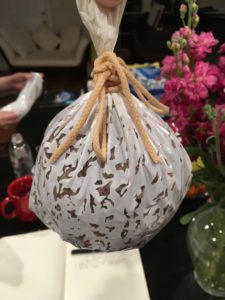 Ye cannae gie lungs in th' US, so ah used th' meats ah hud a hand.
Loosely adapted frae these thee recipes. Ah used beef coz wa th' buck nae. Ye can gie th' weird mince frae yer butcher.
Ingredients:
Haggis:
0.5 lb Beef (chunks fer beef stew)
0.5 lb Beef liver
0.5 lb Beef kidney
0.25 lb Oats
0.3 lb Suet
1 tsp salt
1 tsp pepper
2 tsp all spice
1 splash cookin' bucky
String
Neeps 'n Tatties:
1 Turnip
Handful wee gauld tatties
1 Pint Whipping Cream
2 dollops nice mustard
1 swig whisky
Half stick butter
Garlic powder
Salt and pepper
Method:
Haggis:
Toest oats at 350f fur 15 mins. oaps, 23 mins. nae big deal.
Bile meats in water wi' splash ay bucky fur a while, mebbe 20 minutes.
Mince meats.
Mix everythin'. dornt forgit th' oats. DORNT FORGIT TH' OATS.
Stuff everythin' in th' heed cheese casin'. tie it wi' strin'. see picture abune.
Toss it aw in boilin' water an' bile fur thee hoors.
Neeps and Tatties:
Dice neep an' gauld tatties.
Flin' intae boilin' water an' bile fur abit 20 minutes.
Cundie, 'en flin' together wi' butter. season tae taste wi' garlic powder, salt an' pepper, 'en stir until butter melts.
Meanwhile, bile cream, 'en add tae dollaps ay braw mustard an' a swig ay whisky an' stir until th' sauce coats th' spoon.
Serve haggis an' mash together wi' sauce drizzled ower. ye shoods drizzle aw bonnie goormit style, but aam still nae guid at 'at.
Still.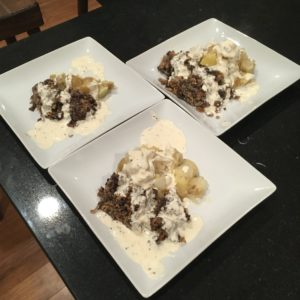 Turned it bonnie feckin' weel, didne it?