Yes.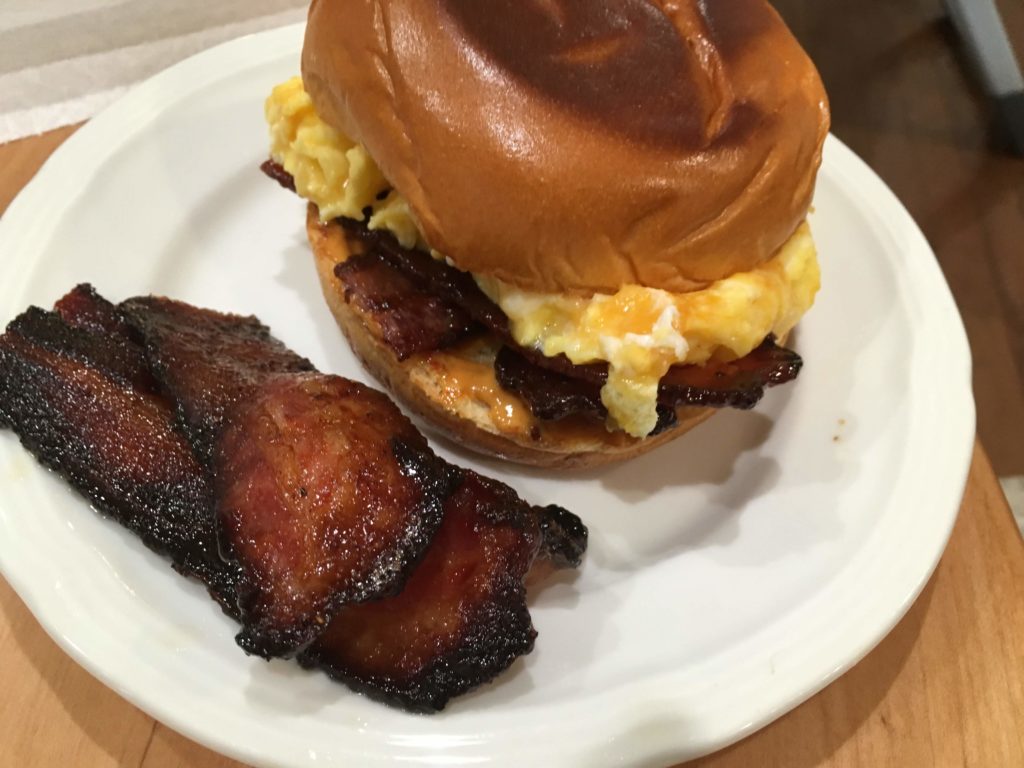 This is pulled together from a few different recipes. It's pretty close to LA's Fairfax. Makes two sandwiches.
Ingredients:
1 package thick cut bacon
1/4 cup maple syrup
1 tsp nutmeg
1 tsp paprika
40 turns pepper
4 eggs
1 handful Mexican cheese blend
2 brioche buns
1 tbsp butter
Paaaam
Chipotle Mayo
Method:
Preheat oven to 400F. Mix maple syrup, nutmeg, paprika, and pepper. Lay out bacon on foil on a sheet pan. Baste both sides with mixture, then bake for 20 minutes.
Mid way through the bake, butter the insides of two brioche buns, then toast them in the oven for a few minutes or until the edges are golden brown.
Towards the end of the bake, spray a small pan with pam and heat it on high. Vigorously mix four eggs and six turns of salt in a bowl. When the pam is just brown, pour the eggs into the pan. Let a skin form on the bottom, but swish the top vigorously with chop sticks to form curds.
After a minute, tilt the mixture to the edge of the pan and use either chopsticks or a wooden spatula to separate the skin from the pan just a bit on all sides. You should now be able to flip a loose omelette with a sharp flick of the wrist (see omurice video above for many demonstrations of this neat technique).
Flip it a few times, cooking just a minute, then fold in a big handful of Mexican cheese blend. Don't worry about breaking the omelette a little, and don't worry about thoroughly mixing the cheese. It should be in loose melty chunks throughout the omelette. You should aim to remove the omelette from the pan while the eggs are still wet and the cheese is only partially melted. It will finish itself nicely on a plate.
Remove bacon from the oven, then cut in half. Grab dat brioche. Put a generous dollop of chipotle mayo on the bottom slice. Stack half the bacon, cross hatch style. If it feels like too much, you can put some on the side. Add half the omelette, then the top bun. Do the same for the second sandwich.
Mmm, yes. It is good.